As we've discussed in our Change Management blog series, change and communication should go hand in hand. Keeping internal teams and external customers informed of changes happening in your business (as appropriate) demonstrates a culture of transparency which, in turn, fosters a sense of community internally, and builds trust for current and potential customers.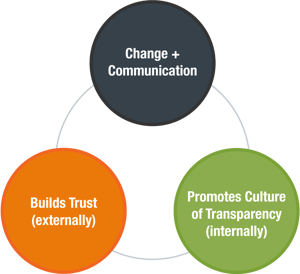 Your customers want to hear your latest and greatest news: improved products and offerings, updates to their support team and availability, changes to how they do business with you, and the like. However, your internal teams and colleagues should be privy to this information before it is communicated externally to customers. More about that below.
Start Small
If you do not have an existing change communications strategy or internal communications plan in place, start at square one. Building a full-blown, five-year, robust communications strategy takes significant time, energy, and planning. To get started, meet with your leadership team to plan and start with just one upcoming change—focusing on all of the associated steps in order to accomplish your goals.
For example, if you plan to build a new team to address a gap in your business, think through the various steps associated with that particular change and the questions you'll need to answer to determine how to best communicate it:
Hiring:
Are you looking to hire from within? Send out a communication internally that will explain to colleagues what you are hoping to accomplish with the new team and what kind of skillset you are seeking. Doing so will also encourage interested employees to apply.
Pro Tip
Don't forget to let your leaders know about the new team before broadly reaching out to all employees. Leadership talking points or FAQs can be helpful in preparing managers for questions from their teams. It can also be helpful for the recruiting process to solicit recommendations from other leaders early.
Open to looking for candidates externally? Link up with your HR representative/team to post the job and send a similar communication to that referenced above that encourages colleagues to recommend qualified contacts in their network.
Introducing the new team:
Why did you start a new team? And how will the people you hired accomplish your goals? Once the team is up and running, make sure to communicate internally how they will be supporting both internal and external customers. Clearly define the team's purpose and mission. Include how and when to get in touch with the team and how to escalate any issues.
With the new team, will there be any changes to current business processes or systems that your team or customers should be aware of from Day 1? Get ahead of these types of changes by communicating the new process to the appropriate stakeholders in advance of the change going into effect.
Consider ongoing changes associated with new team:
What processes, systems, or support might change going forward? It's important to keep tabs on these so they can be effectively rolled out to both your internal team and to customers.
Pro Tip
Including ongoing updates as part of a change communications plan allows you to avoid bombarding employees or customers with too many one-off communications. Instead, bucket positive and possibly burdensome changes together to prove that it is a win both internally and externally.
Map a Change Outline
When you are ready to build a more robust communications strategy to address several bigger changes on the horizon, start by jotting down a broad outline of the changes chronologically, along with each change's internal and external impact. This will help you and your leadership team stay organized and plan for these changes months in advance. Using this outline, you'll be able to more easily build out the communications required to address each change. Below is a quick example.
Upcoming Changes and Impact — Q2 of 2019
Implement a new internal customer relationship management (CRM) system
New capabilities and efficiencies for internal process
Improved tracking of external touches, allowing for better customer experience
A CRM support team required to assist internal users
Finance department restructure
New organizational chart including new reporting structure
Updated job titles and responsibilities
Hiring- internal and external
Introduction of the new team
Extend customer support hours
New responsibilities for team members including extended or additional shifts
Improved experience for customers
Need for IT support during extended hours
New product rollout
Improved offerings for current and prospective customers to get excited about
Determination of whether current services will include new product, or if the new product will be an add-on
Need for expansion of team to handle additional sales and training on the new product
Introduction of the new product
The next step is to assemble a document or create a library with all of the communications associated with these change steps. Think outside of the box when determining the best way to communicate this information. It might be a one-on-one conversation with a specific team member, a larger announcement to your entire internal team followed by a forum for questions, a video or email, or it may be leadership talking points.
When updates are related, try combining in one larger announcement or discussion. If it's a written update, be sure to add headers to keep topics organized and ensure the announcement is easy to read.
Building this type of communication plan can be complex- you want to make sure all communications carry through the same messaging, but you also want to make sure your communications build off one another. For ideas on building out a complex change communications strategy, feel free to reach out.
Share Internally First When Possible
Have you ever worked for a company that let you in on an important change well after it was already announced externally to customers or the public? A lack of transparency is not fun for those not looped in internally, and can make employees feel left out, alienated, and bitter.
While there may be instances when confidentiality must take precedent, as a general rule of thumb, aim to let your colleagues and teams in on changes that affect them first; then spread the news to clients and customers externally after all impacted internal parties are in the know. Your internal team will appreciate the heads up, and if rolled out effectively, it can help generate excitement for a change in direction. This transparency ultimately leads to better customer service. Not only will your team be better armed to answer customer inquiries, but happy, motivated employees almost always translate to happy customers.
If you don't have the resources to build a dedicated change communications strategy, connect with us! We're happy to hear about your business and see how we can help.
Photo by Ross Findon on Unsplash