Video can have a real edge over text communication. For one, it's more personal and engaging. Tone tends to get lost in email, whereas it's easily discernible through video. Video can also be more efficient. Something that might take paragraphs to explain can be quickly explained (and understood) through normal speech. Bonus – employees can easily skim over information in an email, but not a video.
When incorporating video into your internal communication strategy, keep these tips in mind:
Keep it Short
While it can be tempting to use a video to delve deep into details and continue with lengthy explanations – resist the urge! People simply do not have the attention span to remain engaged with long videos. According to research conducted by Wistia, the optimal length of a video is 2 minutes, after which point, viewership drops exponentially. Help ensure that your video is viewed, and your message received, by limiting your video to 1–2 minutes in length.
Plan Your Message & Include Digestible Takeaways
By definition, the goal of your communication is to get a point across. In addition to sharing information, this is an opportunity to exemplify company culture and help employees get to know you. Start off with positive information, keeping your tone upbeat. Plan what it is you want to say and organize the content so that it is understandable for every employee. To do this, use simple, to-the-point language, and eliminate the use of acronyms and jargon. Big ideas should be broken up into understandable snippets with clear takeaways.
End your video with a quick summary of the points you've hit on, and include any calls-to-action. Now that the employees have received this information, what is it that you want them to do? Should they follow a newly implemented business protocol, continue ramping up for a busy season ahead, respond with feedback on a specific question? Make sure you convey what it is you expect your employees to do with the information you've provided.
Shake up the format
All of your videos shouldn't be one executive talking straight into the camera - get creative! Try out different approaches – fireside chats, interviews, testimonials from employees, clips from all-hands calls, and juxtaposing imagery and infographics. Consider using different locations for the video shoot, from a coffee shop, to the leader's home, and more. The key is to keep your video engaging, avoiding a monotonous, repetitive setup.
Appropriately frame
Prior to filming, look around to make sure there isn't anything distracting in the background that could potentially take the focus away from the speaker. It's also a good idea to avoid having the individual sit in front of a window, as this could silhouette and make it difficult to see the person. Ensure the shooting location is bright, and set up a tripod so that the shoot is steady. Have the speaker sit up straight with shoulders back, and try to position their eyes about a third of the way down the frame, as shooting too high or too low can appear awkward. Usually the speaker looks directly into the camera, so the audience feels as though they're speaking to them. If the video is intended to be more of a discussion between an interviewer and the subject, the speaker may look slightly off camera at someone else. Encourage the speaker to smile, speak naturally, breathe, and remember to blink. For more tips on framing, click here.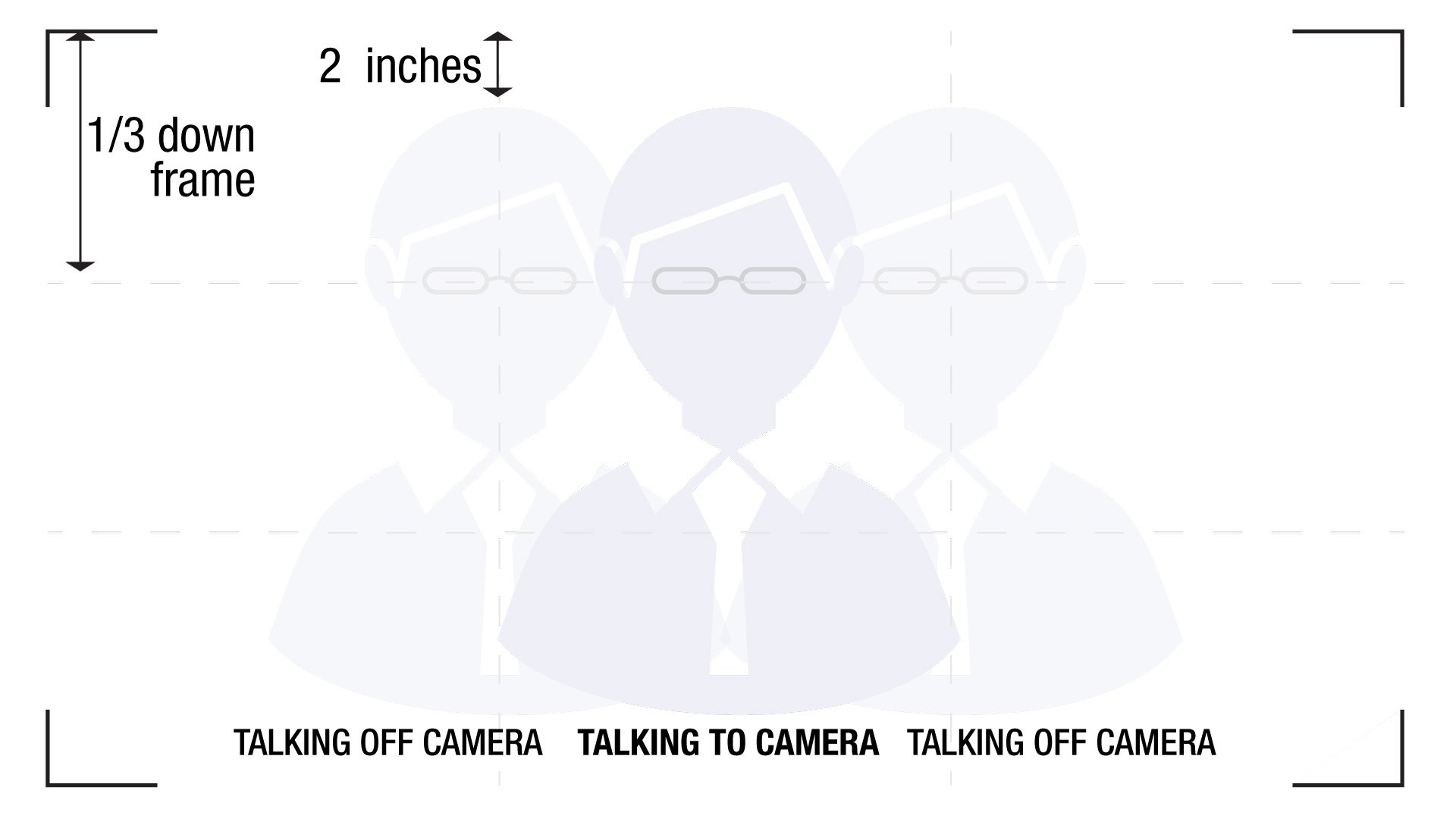 Think about sound
Videos should come across as crisp and clear, so as much as possible you should avoid any background noise. Choose a location that is free of distraction, silent, and allows the speaker's voice to come across. (You can find some tips for how to minimize background noise here.) This will also allow for better ease of editing, i.e. pumping up the volume of the speaker's voice but not any background or additional noise. It's important to keep in mind that the video can and likely will be edited, so it's also a good idea to stick to small snippets of information, allowing for natural breaks that can be edited. Avoid speaking from a script, as viewers will be able to sense this and it can come across as less genuine. If you want to add some additional interest to your video, music can be added after the fact. Music has the power to help grab attention and maintain engagement.
Video can truly transform the way you communicate with your employees. Keeping these tips in mind, remember that video is a skill and an art. While shooting video won't come naturally to all, just like with public speaking the more you practice, the better you will get. The practice pays off, since using video can help ensure that employees are receiving, understanding, and digesting the updates that you share. To chat further about how to make video work for you, reach out – we'd love to help.
Photo by Terje Sollie from Pexels