The Content Marketing Toolkit - a B2B inbound marketing strategy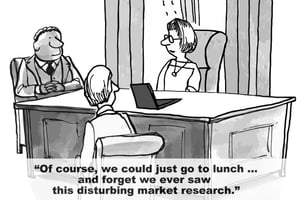 Craft Impact conducted interviews with Leesburg employees and clients, and took a deep dive into keyword analysis, competitor research, product use case and value proposition.
This background allowed Craft Impact to develop a unique Content Marketing Toolkit for Leesburg, which applied situational context to our proven inbound marketing processes. The toolkit lays out a 90-day strategy, focused on two very specific types of individual buyer personas and ideal company buyer profiles, to attract more website visitors, arm the company's sales team with more qualified leads, and engage those leads over a long sales cycle.
We realize that's a mouthful! Let's dive into the three core sections of the Content Marketing Toolkit.
Content Marketing
Craft Impact developed marketing campaigns with targeted blog topics designed to answer common buyer questions identified through interviews and research. The blog posts are intended to attract website visitors and provide them with the information they crave during each stage of their buyer journey.
Note: A buyer's journey maps the stages a prospect goes through when they make a decision on what product to specify and what company they want to work with.
Lead Generation Strategy
By providing relevant, helpful website content, the main goal of the Content Marketing Toolkit is to generate inbound leads that the sales team can contact. Craft Impact recommended downloadable material and offers to accompany the blog articles. Each of these offers is packed with educational, relevant information that builds upon the blog article topics.
For example, as you're reading on Leesburg's website about various classroom construction solutions, there will be a downloadable guide entitled, "Classroom Options: The Ultimate Guide to Durability, Security, Cost, and Beautification". The Ultimate Guide PDF will be easily downloaded and emailed to the visitor once they submit their first name, last name and email address. At this point, Leesburg can continue targeted marketing efforts to this prospect via automated lead nurturing.
Lead Nurturing
For leads that download information but aren't yet ready to specify a product or buy outright, a lead nurturing strategy was developed. With the long sales cycle, this stage of B2B inbound marketing is crucial. Depending on the offer that was selected, leads will be enrolled in email campaigns, spread out over several weeks to several months, that send helpful and relevant information. This content marketing automation keeps Leesburg top of mind and moves the prospect further along the sales funnel, all without manual reminders or the potential for follow ups to slip through the cracks.