Developing content to drive action in a variety of mediums
Craft Impact met with TriNet, who identified health related topics of interest. Craft Impact then hosted focus groups with client-facing contacts at the company to get an understanding of what kinds of information and communication deliverables might work best for clients.
Armed with this information, Craft Impact developed a strategic plan for how TriNet customers could best disseminate the information to their employees and increase the likelihood of engagement. Suggested communication mediums included one pagers, email templates and quick facts. The idea was that one pagers could be distributed digitally or in a printed format at HR meetings, email templates could be a ready-to-use solution or leveraged for company newsletters, and quick facts would be bite-sized pieces of information that could be included in social media or other communication vehicles with which their employees are familiar.
Leveraging data from the TriNet team, Craft Impact developed health related content to meet TriNet's goals. The newly created materials reference general health statistics and metrics specific to TriNet customers, resulting in a data-based explanation of why taking action, or changing behavior, would be beneficial.
Preventative Care Handout
One topic identified by TriNet was preventive care. The finished documents describe how preventive care benefits long-term health, include statistics from various health organizations and explain how to avoid catastrophic insurance claims through routine preventative care.
This preventive care handout encourages employees to proactively manage their health (and health related expenses) through preventive care.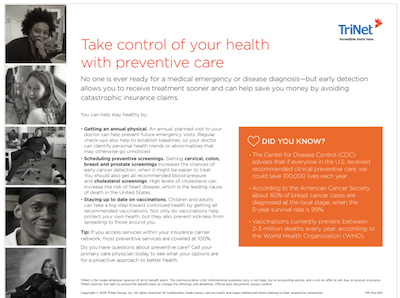 To give clients choices on how to distribute, Craft Impact also created TriNet-branded and text only email templates for turnkey options, and a quick facts format for company social media, collaboration platforms, digital signage or company newsletter.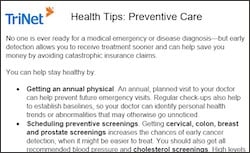 Emergency Care Reference Document
Another topic identified was the importance of choosing the right emergency care solution (an emergency room or urgent care facility).
In addition to a one-pager created related to emergency care, Craft Impact created a reference document that can help employees to get an understanding, at a glance, of when they might choose to visit an urgent care vs. an emergency room. Providing employees with this document can help educate and inform employee decisions when it comes to addressing health issues.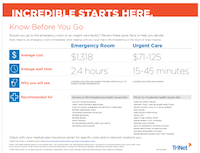 Another option provided to clients was a non-branded, text only email, so clients can easily leverage the content for their own company-branded emails or newsletters.
For each health topic and deliverable, the TriNet team was then able to hand the various communications to their customers to address any areas of interest related to their benefits utilization or costs.