Craft Impact employees are encouraged to get involved in their communities through the Craft Impact Cares program. Each employee takes one workday per quarter (or equivalent hours) to volunteer with the charity or non-profit of their choosing.
When most people hear the term "ALS," they either think of Stephen Hawking, Lou Gehrig, or the Ice Bucket Challenge that swept the country in 2014. When I hear it, I immediately think of my friend Nathan Ashley and his hard fought battle with the disease.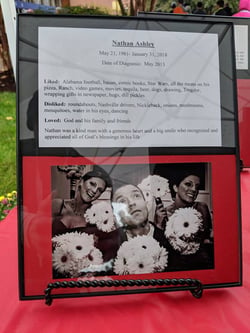 In 2013, Nathan began experiencing weakness in his foot, and after ruling out numerous potential causes, was diagnosed with ALS. Over the next five years, he lost his ability to move, speak, and eat, and on January 31, 2018, Nathan passed away after a long fight with the disease.
If you haven't experienced what ALS does to a person first-hand, it's a ruthless disease. There is no cure and the life expectancy of an ALS patient averages two to five years after diagnosis. It's estimated that 20,000 Americans are currently fighting the disease, and annual costs to care for an ALS patient are approximately $200,000, much more than many families can afford.
Soon after Nathan was diagnosed, his wife Kathleen reached out to the ALS Association for support. The organization was able to provide valuable resources like free or discounted medical supplies and equipment rental, not to mention emotional support and a network of other people to connect with in the area who were going through the same experience.
The ALS Association was a godsend for Nathan and Kathleen, and friends and family felt compelled to not only support this amazing organization, but to also do whatever we could to help them find a cure. We formed a team, called Walking by Faith, for the Walk to Defeat ALS, a fundraiser that is held in communities around the country to support ALS research and patient services.
T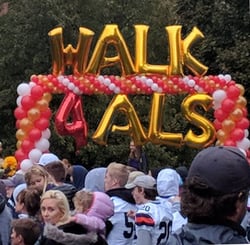 his year marked my sixth Walk to Defeat ALS, where we raised over $182,000 for the ALS Association Tennessee Chapter. This event is always a highlight of the fall for me, and even though our hearts were heavier this year, it's encouraging to see the local community supporting those still fighting the disease and doing whatever they can to make sure a cure is found.
I'm so thankful for all the support from family and friends, some of whom never had the chance to meet Nathan. I'm also thankful for support from my Craft Impact family, who supported us financially and offered to help the event organizers with marketing and communications services as part of our quarterly volunteer work through the Craft Impact Cares program.
From the time he was diagnosed, Nathan stayed positive and remained determined to use his diagnosis to inspire and help others. His infectious smile and sense of humor made the hardest days a little easier, and inspired all of us who knew him to be joyful even in the worst of circumstances. Our hope going forward is to continue to shine his light in the world and make the battle a little easier for others.
Photo credit: Scott Ledbetter