Creating a roadmap for the successful implementation of a strategic communications plan
Who takes the reins when it comes to organizational change communications? Do you have a plan in place for controlling the narrative during a rollout of large-scale organizational change?
Done well, strategic communications ensure consistent messaging and alignment that resonates with your stakeholders, whether those are customers, employees, other executives, investors or the board. Your employees and stakeholders will be leading the change with you as the entire organization leverages a clear vision amongst all stakeholders.
Done poorly, your change objectives will meet resistance from your team, who will struggle to embrace your ongoing transformation initiatives. The organizational change you wanted to implement won't take hold and you'll be left scrambling to get buy-in while fighting an uphill battle for change adoption.
"Organizational change" can include:
Layoffs
Consolidation
Branch closing
Changes to benefits, compensation, titles, job duties
Changes to ways of working (i.e. processes/tools, service model, key performance indicators on efficiency and effectiveness)
After 10+ years of successfully delivering organizational change communications, we've seen everything, from small teams of internal employees, to highly paid consulting groups, tasked with strategizing and delivering the message that will ultimately help decide whether a company frustrates and loses customers and employees, or retains and delights them.
Below are the most common resources that Fortune 1000 companies use to communicate through organizational change. Consider these pros and cons when weighing which working relationship to pursue: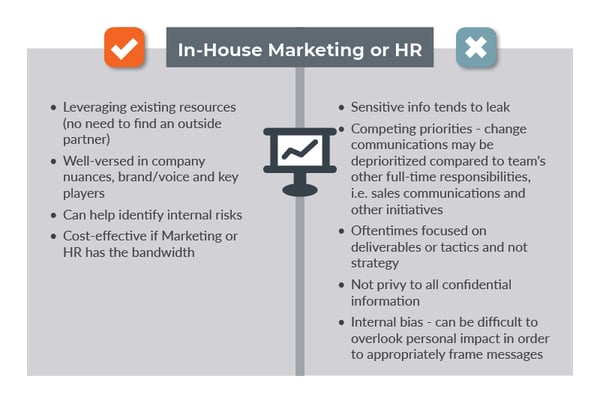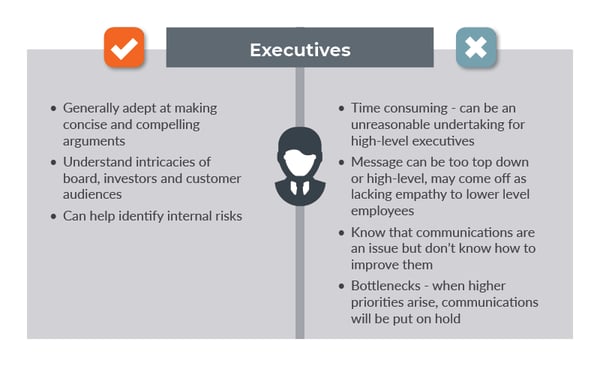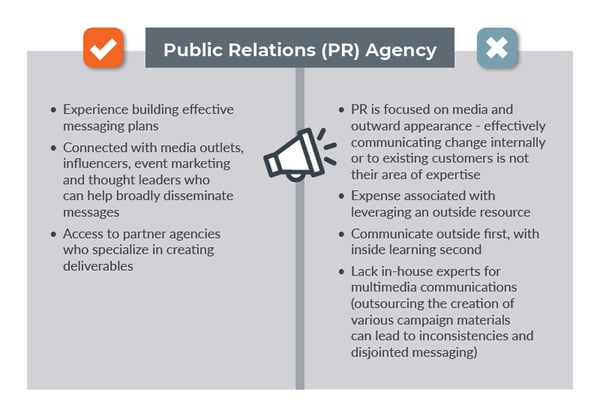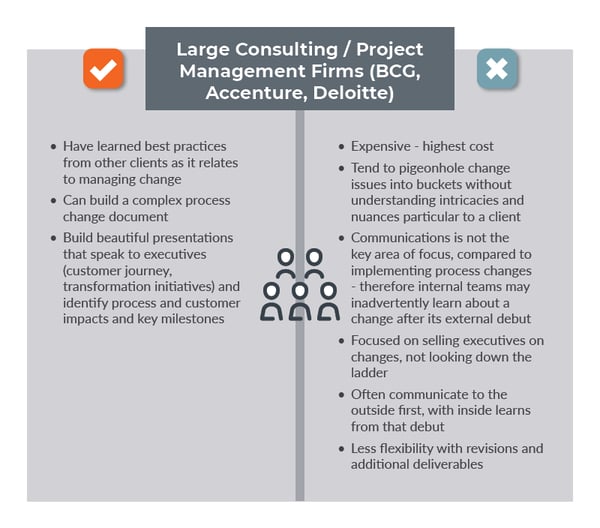 If one of your goals in implementing a company-wide change is to retain and engage customers or top talent, the right change management communications are a vital part of making that happen.
As a strategic communications firm we cannot 100% remove our bias, but our intent is to lay out some of the key variables associated with the different types of change communication partners available to you. Not an exhaustive list, this summary serves as a starting point when evaluating how to chart your path forward.
Transformational Change Agents
At Craft Impact, we help Fortune 1000 executives efficiently and cost effectively achieve their organizational change goals. We partner with clients who trust our experienced team to design and deliver change management strategies that move entire organizations forward.
Reach out to schedule your free 30-minute workshop with a Craft Impact Communications Strategist and we'll walk through what an effective communications plan would look like for your organization.