Key Results
170% Sales Increase
1.7x or 170% increase in sales revenue over three years, achieved organically without capital investments.
Strategic Goals
Created 5 year strategic revenue goals to guide decision-making and create clarity across leadership team. Revenue goals broken down by % per pipeline.
Scalability
Developed org chart for scalability: job roles, responsibilities, and KPIs for marketing, sales, and customer service teams.
ABM Plan
Built an actionable account-based marketing strategy with unified tactics and efforts across marketing and sales teams.
Graber Manufacturing
Strategic Direction to Double Sales, Organizational Structure & Tech Stack to Scale
The partnership with Graber Manufacturing demonstrates Craft Impact's full range of services and expertise. Brought on initially as a consultant for marketing and sales strategy, Craft Impact's team has evolved with the needs of the business - expanding to an overall organizational consultant role and helping Graber build and scale their commerce (marketing and sales) team to achieve ambitious +235% revenue goals.
The Challenge
Seeking Marketing and Sales Alignment
With sales down in 2019 and looking to achieve forecasted revenue goals in 2020, Graber leadership was looking for a way to drive bigger results from their marketing and sales efforts. Top line revenue plateaued for a couple of years, and Graber was looking to address these key challenges:
Value proposition messaging disconnected across teams
Finding harmony between a family business culture and employee accountability
No system of process for follow up with good-fit leads
Inconsistent use of technology to drive revenue

"We were growing and we knew we needed help. The Craft team became integral to our organization helping us identify areas of opportunity and challenging us to grow smarter. Now we're hitting records and have plans in place to continue to achieve the growth we desire. You guys are seriously the best!"
Tracy Graber
Co-Owner & Business Development Manager
The Craft Impact Solution
Two Partnership Phases
Phase 1: Seeking to first establish trust and credibility in a working partnership, we focused on quick sales wins and helping Graber optimize their inbound marketing processes. Following interviews with the existing sales team, we also developed an executive summary with recommendations for people management, refining pipeline stages, and enhancing current processes with digital tools.
Phase 2: With long-term growth and scalability in mind, we worked to build out Graber's future sales team structure, complete with role KPIs and compensation plans, and aligned with strategic 5-year revenue goals, categorized by pipeline.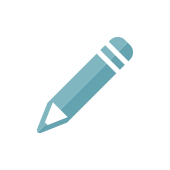 Unified Messaging Across Teams
Craft Impact led Graber leadership through a series of messaging workshops, prioritizing the viewpoint and perspective of its ideal prospect. Not only did Graber achieve a unified messaging framework across marketing and sales teams, the workshops gave core leadership a chance to communicate and discuss strategy around its target ideal prospect for the future.
With crystal clarity on its ideal prospect and the value proposition across its two product lines, Madrax and Thomas Steele, Craft Impact was able to empower Graber marketing and sales employees to create content and sales collateral that spoke the same language.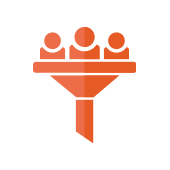 Sales Quick Wins
The team set out to capture the "low hanging fruit" with prospects and projects that were already in the pipeline. Craft set the direction, crafted personalized email templates, coached the sales reps on leveraging 1:1 video, and implemented the automation tools within HubSpot's Sales Hub. This effort led to numerous "quick wins" for the sales team while a longer-term approach was being developed. Sales reps were getting engagement on projects that had gone cold or simply needed several follow up attempts:
50% reply rate for projects in Pipeline A
67% reply rate for projects in Pipeline B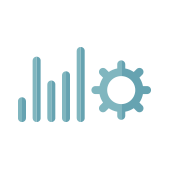 New Inbound Sales Framework
Working closely with marketing and sales leadership and providing opportunities for employee input, Craft helped Graber develop an overarching inbound system and framework for its lead generation and sales process.

Craft worked with Graber leadership to build out leading indicators for each job position within the marketing and sales teams. Each job description within the org chart now includes a purpose, 3-5 success metrics, and a list of top responsibilities. With this in place, the leadership team is empowered to make decisions within their respective department, while staying in alignment with the overall organizational goals. They can also use these success metrics to track employee progression and implementation of the different stages of the marketing and sales process.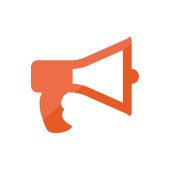 Sales Coaching
Craft built a training and coaching framework to develop sales team members and help motivate and inspire them to achieve Graber's strategic vision as a company.
Executing the sales coaching training side-by-side marketing and sales leadership, the Graber sales team learned best practices and were held accountable for the new leading indicators.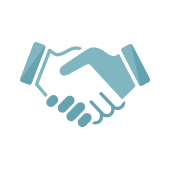 Leadership Consulting, Guidance & Mentorship
Identify opportunities with current "people" practices, such as role responsibilities or leadership structure, and make recommendations to bolster organizational performance
Craft put in place recurring strategy meetings with the Graber marketing and sales leadership team to listen to new challenges, propose solutions, and continue to proactively drive towards implementing the inbound sales framework.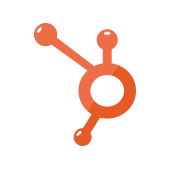 Implementation and Training of Hubspot Sales Tools
Craft worked with Graber sales and marketing team members as a group and individually to train on best practices for Hubspot Sales tools including the Sales Pipeline and Automated Sequences for personalized follow-up to hundreds or thousands at a time.
Craft helped Graber define data input criteria (close date and a check-in system to hold sales team members accountable and ensure accuracy across the various pipelines: allowing Graber leadership to create accurate revenue projections.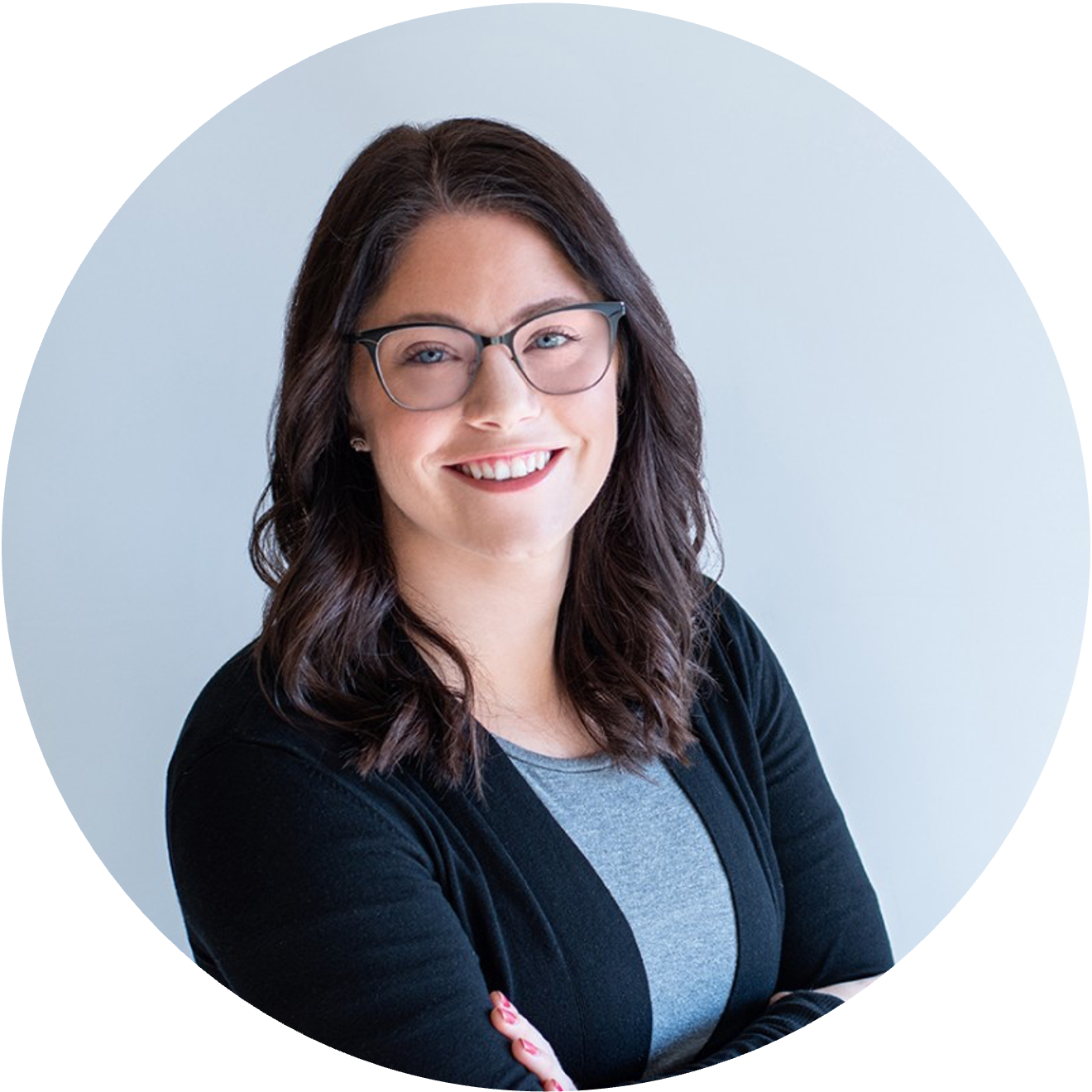 "We've been working with Craft Impact now for over two years and we cannot say enough positive things about their work and their team. Our sales team is responsive to what Craft Impact has to say and has really benefited from their insights and direction. They've also helped us understand the full benefits HubSpot has to offer. Their team is great to work with, too!"
Hilary Graber
Co-Owner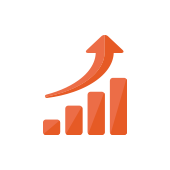 Sales Forecasting and Goals Spreadsheet
Having input first year fiscal year sales goals and pipelines, Craft put together a tool that allowed Graber leadership to break down specific revenue for each quarter of each year for the next 5 years, based on weighted % increase, current estimates for days to close and each pipeline's different conversion rate.
With clearly understood and defined forecasting, Craft was able to build an organizational strategy for marketing and sales that would reflect the direction of the company and shift from the reliance on one pipeline to increasing the other type.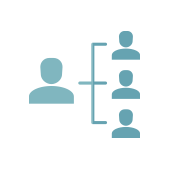 New Org Chart for Commerce Department
Cementing the alignment between marketing and sales, Craft helped Graber establish a "Commerce" organizational chart with the newly appointed Director of Commerce.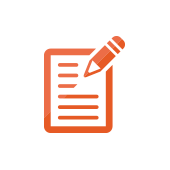 PRINT Survey Implementation and Analysis
Craft worked with Graber to institute PRINT surveys for each employee and incoming hires, showcasing each individual's strengths, areas for growth, and preferred communication styles
Using an analysis of PRINT survey data, Craft and Graber leadership built out individual growth plans for each sales team employee.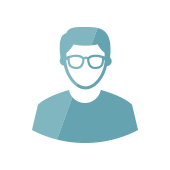 Job Descriptions with KPIs & Compensation Structure
New Director of Commerce, Sales Manager, and Account Executive job descriptions created with specific responsibilities and KPIs that could be monitored and dynamically tracked.
Outdated marketing and sales job descriptions were updated, with more specific responsibilities and KPI's: Regional Sales Manager, Marketing/Brand Manager, Sales Development Representative, Marketing Coordinator, and Marketing Assistant.
Explored and provided strategic direction on modified compensation structure for current and future positions: Regional Sales Manager, Sales Manager, Account Executive.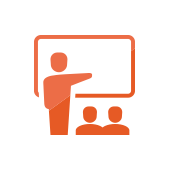 Change Communication Plan & Presentation
Having established organizational changes, Craft worked with Graber to establish an implementation timeline, including meeting presentations and communications for current employees.
Craft developed a change communication presentation aligning Graber's company values with its newly articulated commerce objectives, establishing updated responsibilities and KPIs and setting the scene for future changes.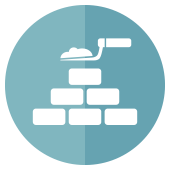 Building the New Pipeline: Implementing a Unified Marketing and Sales Account Based Marketing (ABM) Plan
With clearly forecasted revenue goals and defined metrics, Craft was able to put an actionable account based marketing strategy in place to reflect Graber's new initiatives to increase a previously untapped pipeline.
Craft worked with Commerce leadership to prioritize and plan "target" or top companies for each of the 4 sales "territories," using specific criteria to determine which companies would be most important for future growth.
Anticipating employee questions and educational opportunities with the roll-out of the new target company initiative, Craft coached and empowered Graber leadership to share best sales practices for nurturing relationships in a digital world. Craft created a customized slidedeck and blog article as a resource for Graber employees to use in executing their outreach to target companies.
Craft established an ad campaign strategy with the Graber marketing department to specifically target ideal prospect roles within the top companies for each territory, demonstrating further alignment between marketing and sales.
Commerce Dashboards
Using overall Graber initiatives and territory KPIs, Craft created specific Hubspot dashboards with dynamic reporting for individual Sales Regional Managers (per territory), Director of Commerce, and Sales Manager roles.
Craft coached Graber leadership to use dashboards and reporting in frequent supervisory check-ins with employees, to track and monitor progress towards newly defined KPIs.
Craft created dynamic dashboards for Commerce leadership to use specifically in monthly marketing and sales team meetings with reports that show department wide progress towards pipeline initiatives and overall revenue goals.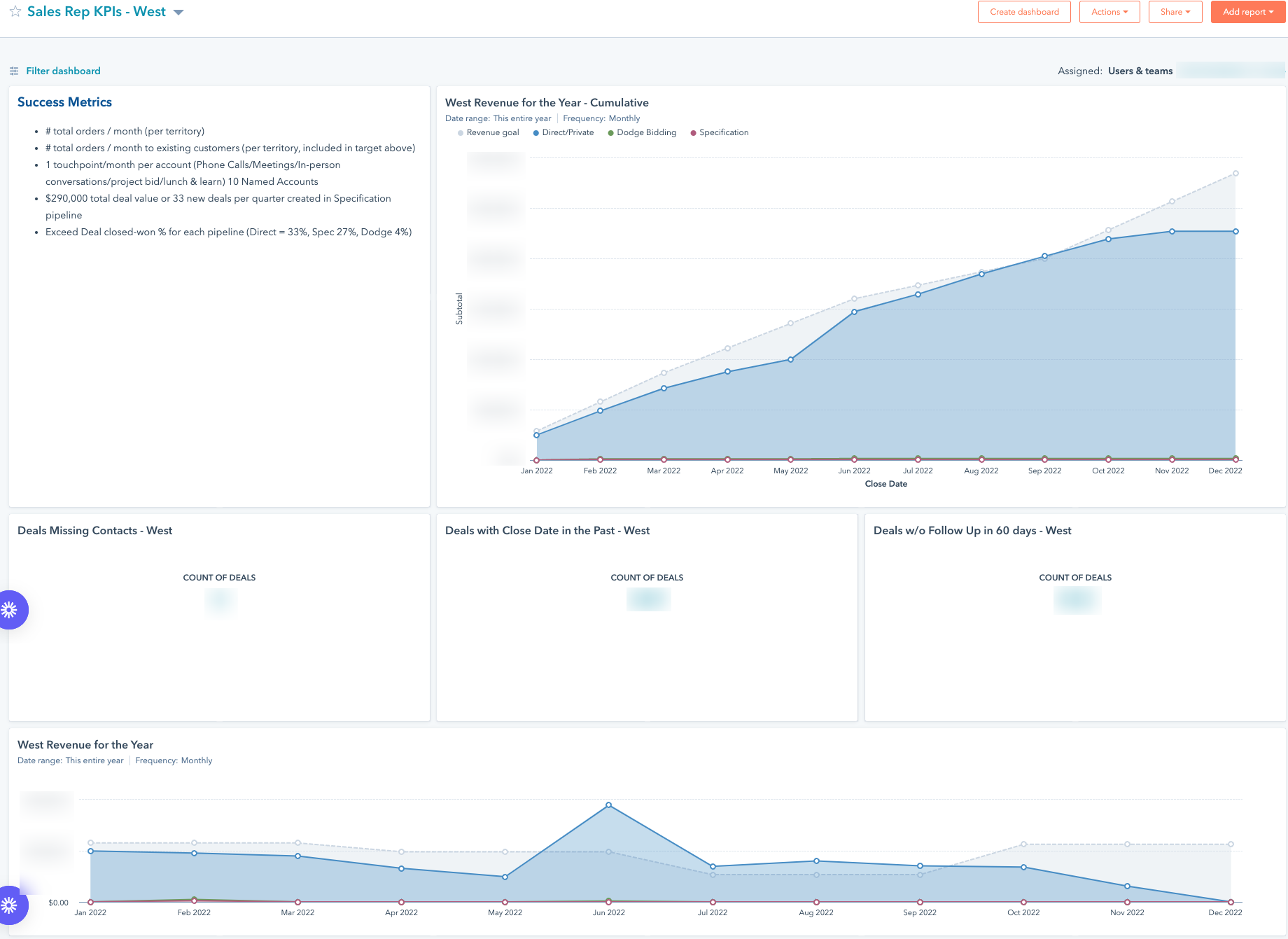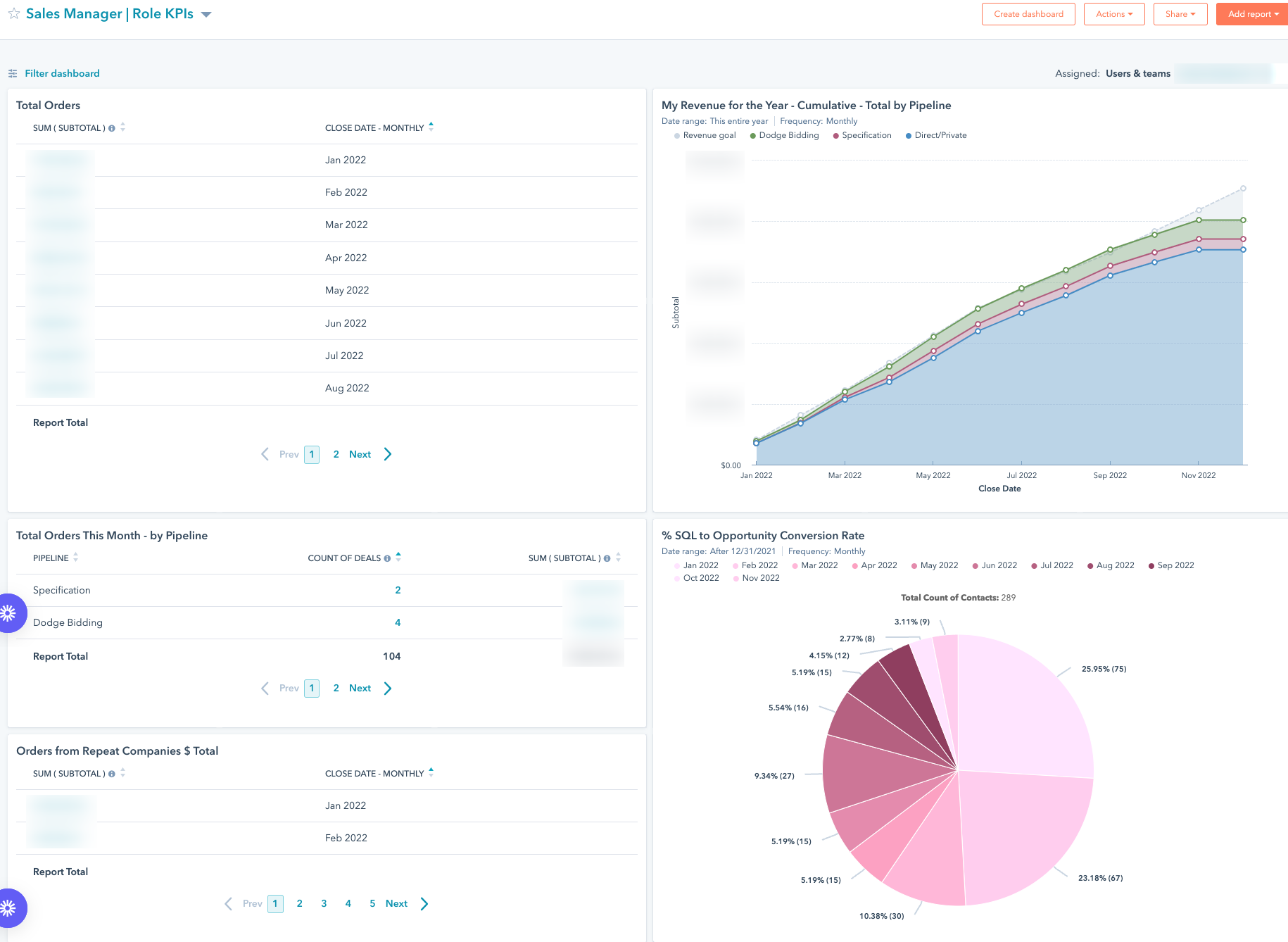 With a clear 5-year vision and goals, an organizational structure and job descriptions to achieve that vision, and a unified commerce strategy to share the value of Madrax and Thomas Steele products with our ideal prospects, Graber Manufacturing is well-positioned to scale and grow to achieve their ambitious goals.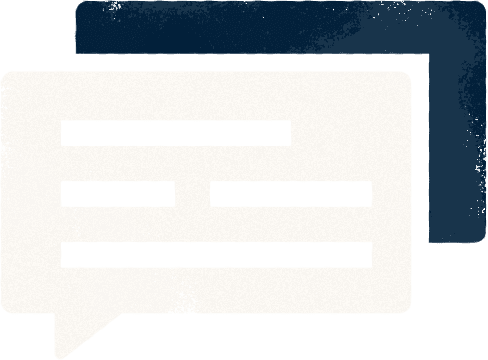 Ready to start the conversation?
Sing Up For A Free 30-Minute Strategy Session (Virtual)