In the midst of the unprecedented state of the world spurred by COVID-19, effectively communicating with customers is uncharted territory. The business world doesn't have a playbook to address the different situations customers face during a global pandemic. Businesses must be delicate with messaging when people are overwhelmed with grief and uncertainty.
As we collectively navigate through this time, consider the following strategies when reaching out to customers regarding changes they may experience when working with your company:
1. Remain Empathetic
Maintain a human side. Recognize that your customers are humans too, and have competing priorities and worries. Be up front: in your website messages, landing pages and emails, tell your customers that you are thinking about them. Tell them you know they are going through a lot right now, and that your best wishes are with them for their health and safety. Example from Pottery Barn: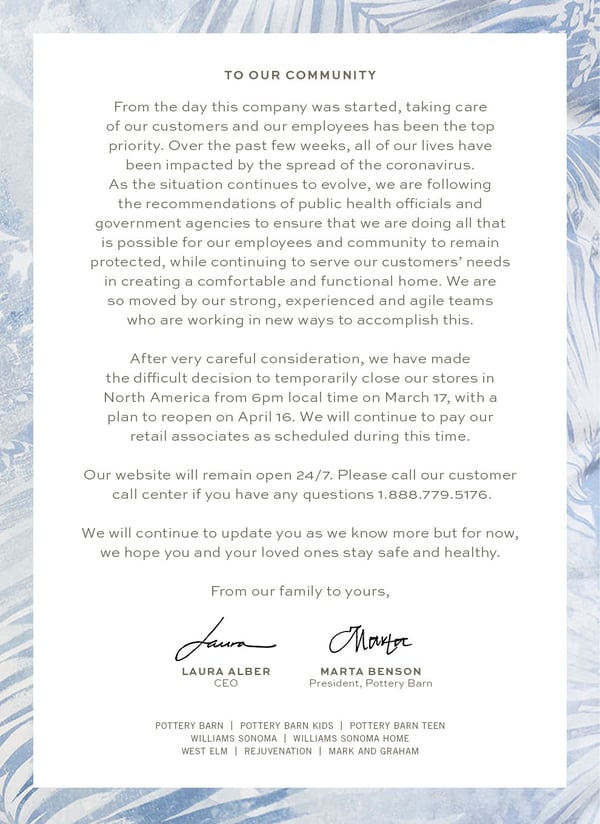 Similarly, if you are writing to tell them that your company may be unavailable to a certain extent or there will be delays, understand how this inconvenience affects them. Apologize, recommit to the priorities that you have for your customers and employees, and let them know that you will be communicating any and all updates with them.
Understand that a lack of empathy can cause your brand to come off as cold and uncaring. Treating the situation as purely business without an eye toward the personal impacts will be damaging, as customers will get the impression that they are simply a number to you, and your company does not care about their wellbeing. Tread lightly, making sure your customers know that you value them, recognize the challenges they are facing and that they can trust you as their partner.
2. Be Transparent (without being salesy)
Give customers an update for the sake of updating them. Without any ulterior motives or using the opportunity to sell anything - just let them know the state of your business, and what you are doing now. Customers (and everyone for that matter) appreciate being heard and an update from your company to let your customers know just that can go a long way. See the below update from JOANN Fabrics:
Alternatively, using this complicated period of time as an opportunity to sell your customers on your products can come off as poor taste. Reaching out to touch base with your customers lets them know that you are here from them. You can also let them know the measures you are taking to prioritize their health and safety, but outwardly soliciting sales may drive your customers away.
3. Clearly State Customers' Options
Be a good partner - don't make customers look for the answers at the forefront of their minds. If there are shipping delays, or events that have been canceled, proactively let customers know how these items will be handled. What are their options - can they choose to receive an item at a later date or alternatively request a quick and easy refund? Can they postpone an event or reservation without penalty or will you automatically refund customers? See below example from Delta's website:

4. Utilize Various Communication Outlets
In keeping with not making customers search for answers, utilize your social media outlets in conjunction with email and your website as a venue for posting updates. Mpix leveraged text from an email they sent to customers to disseminate information even more broadly via social media: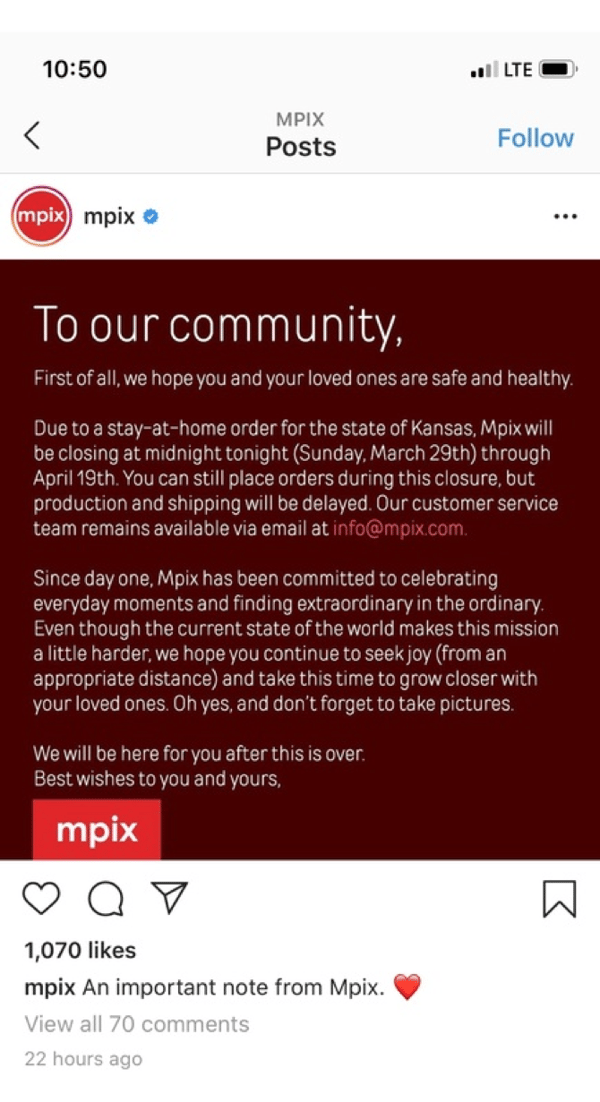 5. Make it Personal
Create targeted messages - ones that speak to the various stakeholders of your company. Speak to the concerns, needs and questions of each customer persona, and make sure your messages are relevant to their groups. See how AirBnB sent personalized messages to those who had upcoming reservations during the outbreak: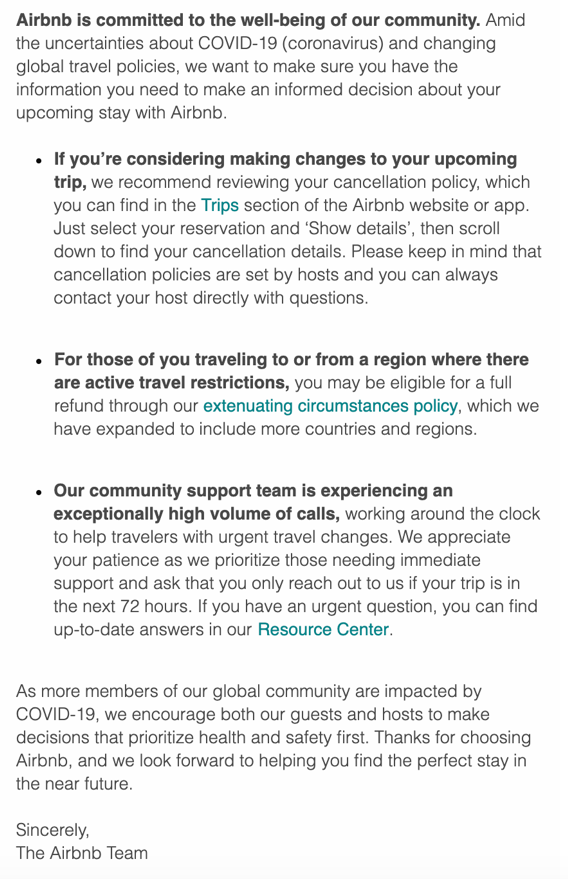 COVID-19 has created a period of swift changes for companies and customers on a global level. Be that as it may, each company still controls the way it communicates with customers. Handling communications in a proactive, clear and thoughtful manner will help mitigate potential confusion and further establish your company as a trusted partner to your customers.