As an employee at Craft Impact, I am afforded the opportunity to volunteer - making an impact at an organization of my choice. As I mulled over the various ways that I could give back to my community, my little pound pup, Lucy, walked into the room looking for a belly rub and little bit of love.
Lucy came to me nearly eight years ago from an animal rescue, which saved her from a high-kill situation. She's brought more happiness and joy to our family than I can put into words on a paper. Everyday, dogs like her are forgotten and worse. It pains me to think of all the sweet animals who don't have the luxury of a family or warm home to give them peace and comfort.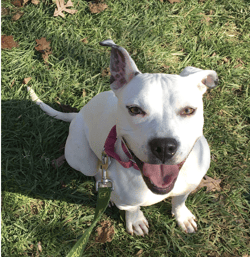 So that's how I knew - although I can't adopt every dog I come across, I can make a difference in the lives of dogs at my local animal shelter, the Humane Society of Harford County. I filled out the paperwork and attended the mandatory training, donned my red "volunteer" shirt, and was ready to get out there!
My first companion was Love, a 10-month-old mixed breed who looks like she's wearing eyeliner. She was super affectionate, eagerly joining me to play in the shelter's enrichment area and walk the trails. Off leash, she ran and ran to her heart's content. Her jumping skills are impressive, and she responded to simple commands like "sit". Her name suits her, she is an energetic love bug.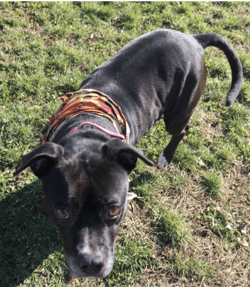 Next up was 10-year-old Gamora. This girl was a bit more calm, and just as sweet. She sat while I pet her, and watched with interest the birds that flew by. She walked calmly along the sun-soaked trails, enjoying the fresh air, and leisurely taking in the smells.
I realized that my time spent with these animals was not only good for them, but for my soul. I was able to connect with the dogs, allow them to expend some energy, and brighten their day.
Time spent being active outside and engaging with a human reduces kennel stress. It improves the dogs' mental and physical health, helps to socialize them and makes them happier, and thus more adoptable.
Volunteering has so many benefits, and is such a feel-good thing. Dog walking allowed me to contribute toward the solution for stray and homeless animals, and to see a change in the animals' disposition almost instantly. It's something I hope to continue doing on a regular basis. If you're interested in volunteering your time to walk homeless dogs (or cuddle kittens!), reach out to your local animal shelter. You'll be glad you did.