Does your company design and supply a unique product used on commercial construction projects?
Imagine getting a phone call from an architect or engineer who:
Viewed 50+ of your company's website pages
Sold themself on using your product over the competition
Understands the design and technical information of your product
Is ready to specify your product on a project in the planning pre-bid stage
...and they are calling because they need to discuss technical design information and keep their project moving forward. In other words, they're at the sales stage - ready to specify your product.
This type of interaction is the result of inbound marketing done well.
What is inbound marketing and why is it important in my industry?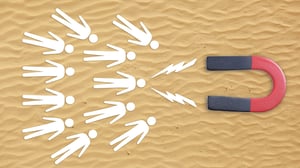 Inbound marketing is a data-driven approach to marketing with a magnet instead of a hammer. People don't like being told who they should do business with – they want to figure it out on their own! Inbound marketing enables your prospects to qualify themselves through self-paced research.
According to The Digital Evolution in B2B Marketing, "B2B customers reported to being nearly 60% through the sales process before engaging a sales rep, regardless of price point. More accurately, 57% of the sales process just disappeared."
How does this translate for businesses in the commercial construction products industry?
Buyers will want to do due diligence before suggesting an investment on high-ticket items from suppliers.
By offering unique products, it's important to share as much information as possible with the world to demonstrate your ability to solve a specific problem.
Longer sales cycles mean that buyers want to gather information through the sales process.
With quality content geared towards your ideal clients, inbound marketing attracts prospects to your website. Your marketing materials will help them make a purchasing decision, when they are ready to make it.
This "help-first" mentality positions your business as a trusted authority your potential customers want to engage with.
What does this look like in the real world of marketing and sales for commercial construction suppliers?
Back in 2010, I was a sales rep for PermaTrak, a boardwalk and pedestrian bridge company. I covered the state of Florida and tried to get my product in front of as many landscape architects and civil engineers as I could. I attended trade shows, cold called dozens of people every day, and literally knocked on doors to get in front of my audience.
Occasionally someone would fill out our website's Contact Us form, and I was the one responsible for following up with them.
Very quickly, I started to figure out how valuable these inbound leads were.
The people coming in through the website were very different from those I'd cold called. Some of them had viewed every page on our website, multiple times. They wanted to talk to me, and they had lists of questions I could easily answer.
I didn't have to cold call anymore, and I wasn't reliant on Dodge or Reed Construction Reports that continuously gave me outdated information.
Fast forward a few years, and my penchant for inbound marketing has led to me running a growth agency with inbound marketing at its core – Craft Impact.
Every day, we utilize inbound marketing to help companies like yours efficiently acquire and retain qualified, net new customers.
Specifically, we work with companies in the construction materials industry to cost-effectively generate more leads and acquire new customers.
From my first-hand experience as a sales rep, I know how hard it can be to find good leads in this space. That's why we work to build a steady stream of high quality, motivated leads for your sales team to fuel revenue growth.
How do we do that? We pair our combined 40+ years of experience in digital marketing strategy with the inbound methodology – which starts with:
Attracting Leads with Quality Content
Turning strangers into website visitors
As a holistic strategy that leverages your website, emails, social media, and other digital marketing tactics, inbound marketing attracts more company website visitors. When trying to attract our ideal clients, we should put less emphasis on beating people over the head with overly biased marketing messages, instead focusing more on positioning ourselves as a trusted knowledge resource. In general, people don't like to be beaten over the head.
This doesn't mean you can't talk about the advantages or features of your construction product or solution. Of course that's important. But a great inbound website will go much further than that.
Engaging Leads by Building Relationships
Create lasting connections with leads
Once you have website visitors, the Engage stage of the inbound marketing methodology focuses on providing relevant and valuable resources that help prospects find the right solutions for their needs. The resources offered by your site could be a tip sheet, an eBook, or an industry white paper – something that your ideal clients will find useful.
A person's actions on your website, i.e. what he or she downloaded, what pages were visited, etc., will drive how you continue to market to them, and when to pass to the sales team for follow up.
Delighting Your Existing Customers
Make customers happy to know you
This is a stage that often goes overlooked. How many times have you closed a sale and started working with the client, only to forget to ask them several months later if they know anyone who could benefit from your product? The inbound marketing methodology extends post-sale by using context and personalization to deliver tailored messages.
In our minds, referrals are the best type of new leads (even better than inbound!). Your marketing team can help generate more referral leads, and even upsell your current clients on additional goods or services that can aid them in their construction projects. Continuing to engage with and delight current clients is vital if you want to produce results through a steady referral program.
In summary...
Knowledge is power (and knowing is better than guessing).
With the right marketing strategy and software tools in place, you can better understand who your audience is, how they are engaging with your content, and the problems they are looking to solve. Analytics tools can help you learn about the demographics, attitudes, and activities of your ideal customers, and will also help you learn which pieces of content are working best for your brand. All together, this helps build a story around how your product can bring the prospect's project vision to life.
Build on what is working and generate momentum towards increased leads, clients, and delighted customers!
Want to get started? We can help!
Craft Impact is a growth agency dedicated to helping clients grow and thrive using the inbound marketing methodology.
We are self-described data geeks who get an adrenaline rush thinking about digital and inbound marketing. We spend our days learning and implementing the inbound marketing methodology so you can focus on other parts of your business.