My father was a great businessman, entrepreneur, successful CEO and avid reader.
I've been fortunate enough to inherit his books over the years, and I came across this older one recently buried in the stacks - "Cold Calling Techniques (That Really Work!)"
What a beautiful artifact I can now display in my office. Look how happy that guy is. "No big deal, just big deals" - he's closing all the time, baby!
He looks like he was put on this earth to pick up the phone and call people, pushing sales for his B2B company. He's a true American and you gotta admire his enthusiasm and cheesy half smile as he blindly dials down a list.
Here's the link for the book, but I seriously doubt you'll click on that. How can I be so sure?
Well, have you ever cold called, or do you now? I have; I did it for a few years actually.
My thoughts on cold calling: it's the worst. The absolute worst.
What is it about cold calling that sucks the enthusiasm out of you so fast? Two things primarily:
1. You're lucky if you get through to the right person. If you reach the secretary, aka "the gatekeeper," it's almost immediately apparent that he or she has one primary function: to keep you from distracting the person you're trying to reach.
"He's busy right now, can I take a message?"
To which I'd scramble to spit out my name, company and phone number before the gatekeeper hangs up and throws the Post-It note into the black hole of unanswered messages.
2. It's tough to spit out a value proposition before you've lost someone's attention. Let's say you do reach the intended person, your "target" - classic sales training teaches to take aim and beat the target over the head with your value proposition and why the person should buy your product your service.
"I wanted to introduce you to my product and see if you had some time to sit down for 15-20 minutes to go through some more information."
99% of the time, the prospect is thinking, "Wow, what an absolute waste of time that would be, I don't have time to listen to this person talk about themselves." They respond with something like, "Yeah I think I'm all set for now, thank you for the call though, I appreciate it."
Yikes!
Finding the Light
When I started my career selling a construction product, I built up my funnel with all outbound sales methods:
Cold calling or emailing lists from paid lead services- see script above

Cold emailing

Trade show appearances

Literally walking into someone's office and just knocking on their door to introduce myself
It was exhausting and incredibly frustrating.
Not to completely discount all of these sales methods, but I realized there had to be an easier way to reach my audience. My main goal was to "get in front" of the people who were looking for a construction product that would solve their problem. I needed more awareness, more exposure for my product. Once people knew we existed, they'd find value in the product- I just needed help getting the sales process started!
By the way - does this sound like you? We help companies who don't have enough awareness around their product or service offering.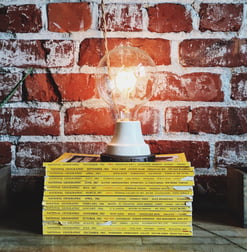 That's when I discovered inbound marketing and sales - that is, I started supplementing my sales efforts through inbound marketing.
Following Up with Inbound Marketing Leads
Around 2011, I really started to nerd out on inbound marketing. I used all the free information from HubSpot to learn more - webinars, online classes, local meetup groups, podcasts and more.
From there, I convinced my boss at the time to switch to HubSpot, adopt an inbound marketing methodology, and transform how we relate to prospects and clients. That shift was monumental for the business, but also for myself as a sales rep.
The difference between calling on an inbound lead vs. cold calling/emailing an outbound lead was night and day. The calls would go more like this:
"Hey, this is Stephen from ABC Company - I saw you requested our literature brochure and downloaded our case study packet - is there something specific you were looking for?"
Using our HubSpot tools, I also could see the person I was calling had viewed 17 pages on our site and were interested in a specific topic. They were easy conversations to have, and instead of rushing to get me off the phone, the prospects were ready to take the next step in learning more.
Let me take a minute to clarify that I'm not saying that cold calling is 100% dead. It's more like 90% dead, or on its deathbed. More on that below.
However - the shift in the way we were marketing and selling was so gratifying to me personally, I eventually started to feel I could help other clients do the same thing.
Long story short, this is how our growth agency, Craft Impact, was born and our mission was set: to help other companies increase their website visitors and sales-ready leads.
From Inbound Marketing to Inbound Sales
From there, I realized I loved sales- but what I loved is what we call "inbound sales." Inbound sales put simply - aligning your sales efforts to the way prospects want to buy.
People don't like being sold to. Nor do people like being told what to do, or what decisions they should make. So the role of a successful salesperson today is quite a bit different than it was just 5-10 years ago.
Prospects today want a salesperson to bring them insight into their problem. They want to be shown (not told) how a proposed product or service will accomplish their goal(s) or solve their pain point(s).
Pipeline Generation & Inbound Sales Tips
Where did I learn this? You guessed it - HubSpot.
In my journey to become an expert in inbound sales, I recently came across an opportunity to participate in the Hubspot Pipeline Generation Bootcamp program with Dan Tyre (#6 employee at HubSpot). Dan's life purpose is to coach and inspire people to learn the first two stages of the inbound sales process- "Identify" and "Connect."
Identify Stage

- Finding the ideal buyers in your target market, who are active in their buying journey

Connect Stage

- First live conversation with a prospect. The goal of this call is not to sell anything, but instead to introduce yourself, get into a conversation with the prospect, and schedule a follow up call to see if you two could eventually work together.
In between shouting "Woooo!" and dancing around like a mad man, Dan shared a handful of sales strategies (that really work!). But seriously, they are working. (Want more sales strategy info? Check out these ideas from Uplead!)
Below are my top 11 takeaways from the program:
1. Whether or not cold calling is dead, warm calling is crucial to sales success.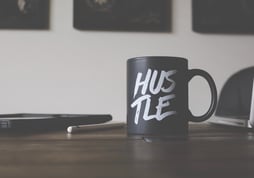 Let's assume your website is driving traffic and qualified leads to your sales team. Switching to inbound does not mean your phone can be retired. After you start generating website leads, you have to call each and every one of them (multiple times, intermixed with short, helpful emails). You may have to reach out 7-8 times before connecting with the prospect. A sales tool like HubSpot's Sequences can be helpful in automating some of that follow up.
2. Avoid being a sales rep bum - do your pre-call research
Many sales reps aren't prepared to help. They haven't done their research; they haven't thought about tips or insight for the prospect that will actually help. Review the prospect's company website and comb through their other social media channels to see what they're working on, what recent accomplishments they're sharing. Find the prospect on LinkedIn and explore their tagline, experience, education and shared contacts to find some points that will help you build rapport.
3. Don't rush the sales process
The overarching goal of this "connect call" is not to start pitching your services or products. It is to establish rapport with your prospect and see if it makes sense to schedule a follow up "exploratory call" where you'll discover what their goals, challenges, plans and timelines are.
4. Use pauses to your advantage in your first call. Let the inbound lead/prospect do the talking.
This starts from the first 5 seconds you're on the phone with your prospect. Once you say your name and what company you're from, shut your mouth and get comfortable with the awkward pause. It's easy to visualize this but hard to execute. If you're like me, you're used to going into the elevator pitch as soon as you have a chance.
Pausing is your new secret sauce. You have to embrace the awkward pause.
Like this -(ring ring)
Prospect: Hello, this is Ashley.
Sales Rep: Hi Ashley, this is Stephen from Craft Impact. (I do this while smiling because otherwise I'll sound monotone and boring).
PAUSE. PAUSE. PAUSE. WAIT FOR 5 MINUTES IF YOU HAVE TO….
Prospect: Hi Stephen.
Sales Rep: How are you today? PAUSE. PAUSE. PAUSE.
WAIT FOR ANOTHER 5 MINUTES IF YOU HAVE TO….
Prospect: I'm doing fine, thanks. What's going on?
Sales Rep: I saw you were on our website yesterday and wanted to ask what you were looking for help with? PAUSE. PAUSE. PAUSE.
WAIT FOR ANOTHER 5 MINUTES IF YOU HAVE TO….
A conversation that starts this way flows so much more smoothly, the difference is seriously mind-blowing. The pauses put the inbound lead/prospect in the driver's seat, which is where they should be.
5. Practice your pauses and talking points before picking up the phone.
How? Find a buddy to hold you accountable.
I was especially appreciative to Tyler at Lone Fir Creative and the others in my bootcamp cohort for the ability to practice and learn from feedback.
Added bonus: If you're like me, you've got some inner competitive fire that can be stoked by hearing what others in your space are accomplishing.
6. Embrace the art of the voicemail
You're going to leave voicemails; learn how to do those well. Most people are terrible at voicemails. This article is packed with helpful suggestions, I especially liked #3.
7. Video voicemails are effective, and a good break from the mundane
I'm loving this free Soapbox tool by Wistia. Within 10 minutes, you can produce a super personalized video voicemail to be included in your email. Who isn't going to click play on something like this?!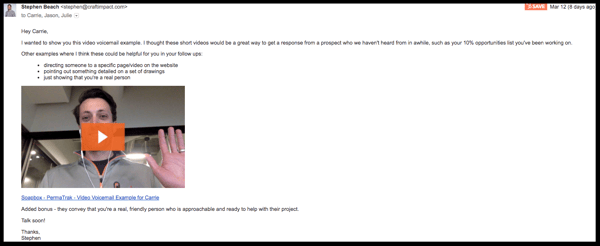 Pro Tip: Learn how to set up and record effective video voicemails for sales outreach here.
8. LISTEN.
The best salespeople aren't just loudmouths that can work a room. The best salespeople are good active listeners.
9. If your marketing team is on the Struggle Bus...
...and you don't have enough quality leads to follow up with - use this guide for 8 ways to generate your own leads without marketing support.
10. Between calls, send shorter emails that offer value
Your emails should be centered around relevant, personalized information. The following guides are packed with helpful information and templates you can use in your sales outreach.
11. Vision boards are underrated
Why are you doing what you do everyday? What's your personal motivation? A vision board can be a collection of family photos, things you love and hobbies combined with a few bullet points of what you're working towards or what inspires you. Keep this on your desk in plain view.
Inbound Sales Reps Sleep Better At Night
Take a second and think about how you feel when you hear someone described as a "used car salesman." You probably feel a little bit gross inside. Those words convey pushiness.
The Pushy Salesman - Always Be Closing (Photo credit: Giphy)
When someone says they're "in sales," traditional defense mechanisms start sprouting up in our minds: "Oh, I"m all set right now," "No, I'm not really looking to change anything right now."
We immediately start thinking of how we can get these people off our back, to stop calling or emailing us nonstop.
This is all thanks to traditional outbound sales reps who call and email us nonstop while bringing no value to the table. They're calling to sell. To start closing!
They're so blinded by their quota, hitting the numbers and impressing the boss that they forget how ineffective their methods can be.
Flipping this mindset on its head - if we think about the inbound sales process as a way of aligning our sales outreach to how the prospect prefers to buy something, we've now put ourselves in a much more powerful, sustainable position.
Over the 8 week course, I tried to keep Dan's advice of "always be helping," top of mind throughout the program, which is to say, "Don't be that annoying salesperson." That can be tough to do if you don't have the right skills.
So start practicing with some of these tips and let me know how it goes!
P.S. I honestly think research will eventually show inbound sales reps can sleep better at night - knowing they're not bothering people as much as they are focused on helping them.
Hopefully you found these takeaways to be helpful with your own sales outreach efforts.
If you're interested in this inbound sales approach, I'd highly recommend the free Inbound Sales Academy course and certification offered by HubSpot.