As a company with a remote workforce, it's always a treat when we are able to get together for strategy sessions, project collaboration and good old-fashioned team building.
It's even better when we can leverage some of our time together and give back.
As you'll see on our blog, we all try to participate in community service in our home towns through the Craft Impact Cares program. The past two years, we've joined forces to serve a local charity during our annual company meetings. Last year, we packaged up food at the All Faiths Food Bank in Sarasota, Florida, and this past March, we had the opportunity to volunteer with Our Daily Bread in Baltimore, Maryland.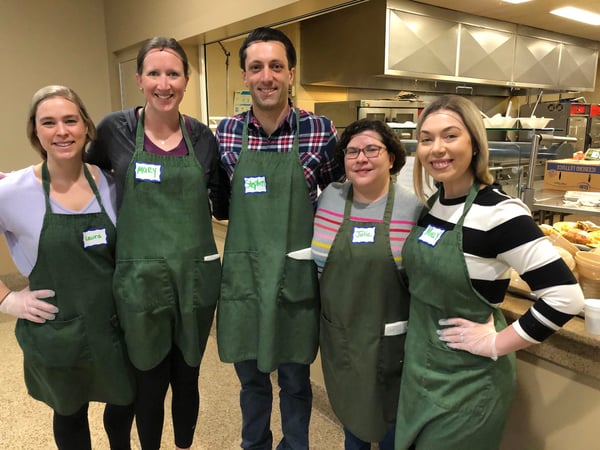 Our Daily Bread is a service of Catholic Charities of Baltimore and is the largest hot meal program in the state. (The organization has not missed a single day serving lunch since June 1, 1981...talk about impressive!) Each weekday, breakfast is available to seniors and people with disabilities, and dinner is served to men enrolled in the Christopher Place Employment Academy, located in the same facility as Our Daily Bread.
We had the pleasure of serving during the breakfast shift one of our mornings in Baltimore. The regular volunteers cheerfully welcomed us and showed us the ropes: how place settings should be laid out, what to expect when the visitors arrived and what the general rules of breakfast service were.
When the doors opened, the next hour was a whirlwind of talking with and serving visitors, ensuring they had everything they needed and turning over place settings for the next guests to come. Once the breakfast rush started winding down, we helped set up place settings for the lunch service, which is the main event at Our Daily Bread, serving 500-1,000 visitors each day.
Working the breakfast shift at Our Daily Bread allowed me to reflect on something many of us take for granted on a daily basis. Personally, I would find it extremely difficult to start my day without access to a good meal. People in the U.S. and worldwide struggle with hunger regularly, and it is uplifting knowing that organizations like Our Daily Bread do their best to curb this issue in their local communities.
The experience was a reminder that we should never be too busy to give back to our local communities. If we can find the time to serve those in need during the limited time we have annually to meet as a company, we can certainly find the time in our lives back home to do the same.
Thank you, Our Daily Bread, for having us—and kudos for the important work you're doing each day in downtown Baltimore.