We started the Craft Impact Cares program in 2017 as a way to weave social impact into the core of our business model. Year end donations and charitable contributions for employee birthdays are also rewarding, but we're particularly excited about the CI Cares program because it's a way for our team to significantly contribute their time and effort to a local charitable organization of their choosing. Read more of the stories from our team here. Here's my story...
I can still remember not being able to stand up to hug my mom when the doctor came out to tell us my dad had a malignant brain tumor and an estimated 3-6 months to live. It was June 2010, and my dad was 51 years old. I literally couldn't move, my legs were spaghetti. I guess I was just in shock, I had never experienced anything like that.
In that moment, we started quite the journey. My dad initially went to Duke University Brain Cancer Center, then followed Dr. David Reardon to Dana-Farber Cancer Institute for the clinical trials, promising treatment options and the hope these institutions offered.
After a 21-month battle with a Grade IV GBM (glioblastoma multiforme) brain tumor, my father, Tim Beach, passed away in April 2012, just 6 days after his 53rd birthday. We "celebrated" with carrot cake–his favorite–while all of us stood around his hospice bed trying to find grace and enjoy our last days with him. GBM took my best man, my golfing buddy and my role model.
There is much more to the story of his 21 months living with a brain tumor, but to summarize, it was an incredible journey.
You can read more about our experience on our family's website or watch my dad's video message below.
The 1st Annual
My dad successfully started and grew multiple businesses in Dayton, he was 1 of 12 children (we have a big family!), and he impacted thousands of people during his journey with GBM. After he passed away, a lot of family, friends, and other supporters wanted to help us, and we all needed a place to direct that collective energy.
My mom, two sisters and I started the HOPE...It's a Beach Thing fundraiser event in 2012.
Our primary goal for the first event in 2012 was to gather everyone together to honor my father and raise money for brain tumor research led by his doctor, Dr. Reardon, Clinical Director of the Center for Neuro-Oncology at Dana-Farber Cancer Institute. We designed the HOPE event to be a walk/run 5K with silent auction and raffle, and committed to donating 100% of the profits to Dr. Reardon's research efforts.
My dad loved running, and we thought the campus of his alma mater, the University of Dayton, would be a beautiful place to host the walk/run. At the time we didn't have a detailed vision for how many years we would continue to host the HOPE event, or for how big it would become. We didn't anticipate it growing into what it is today, with 400-500 participants each year and $442,000 donated to Dr. Reardon's research in 8 years' worth of events. We're also thankful that the event has provided a platform for Dr. Reardon and/or one of his family members to share about his research progress to provide hope to brain tumor patients and their families.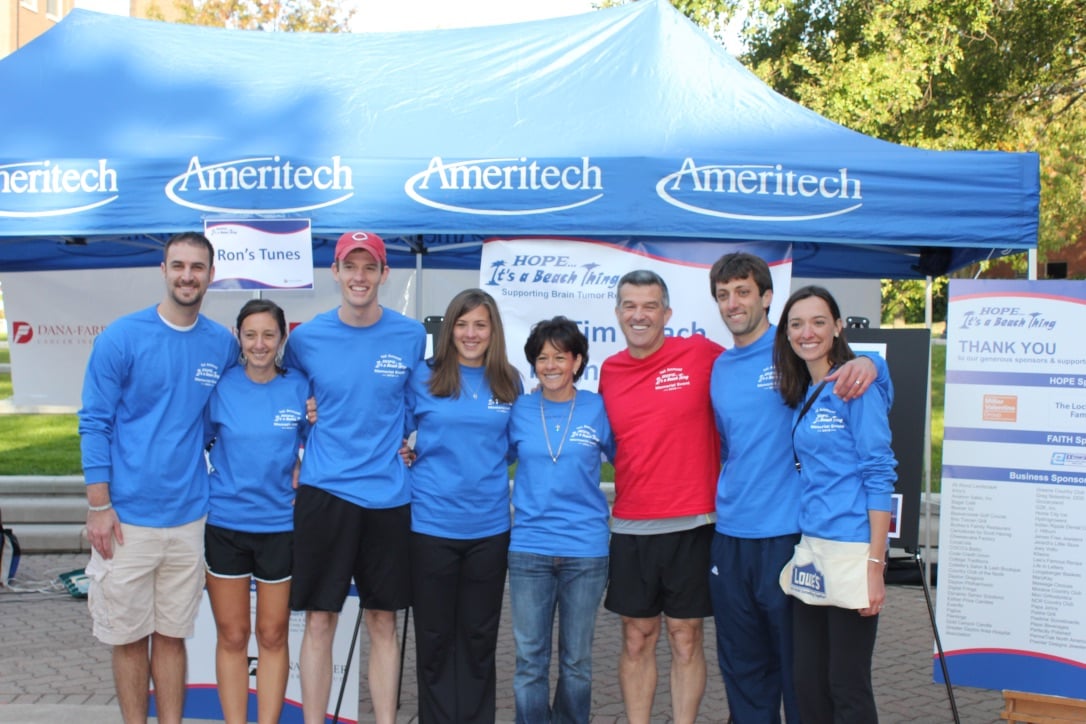 (My family and I with Dr. Reardon at the first event in 2012)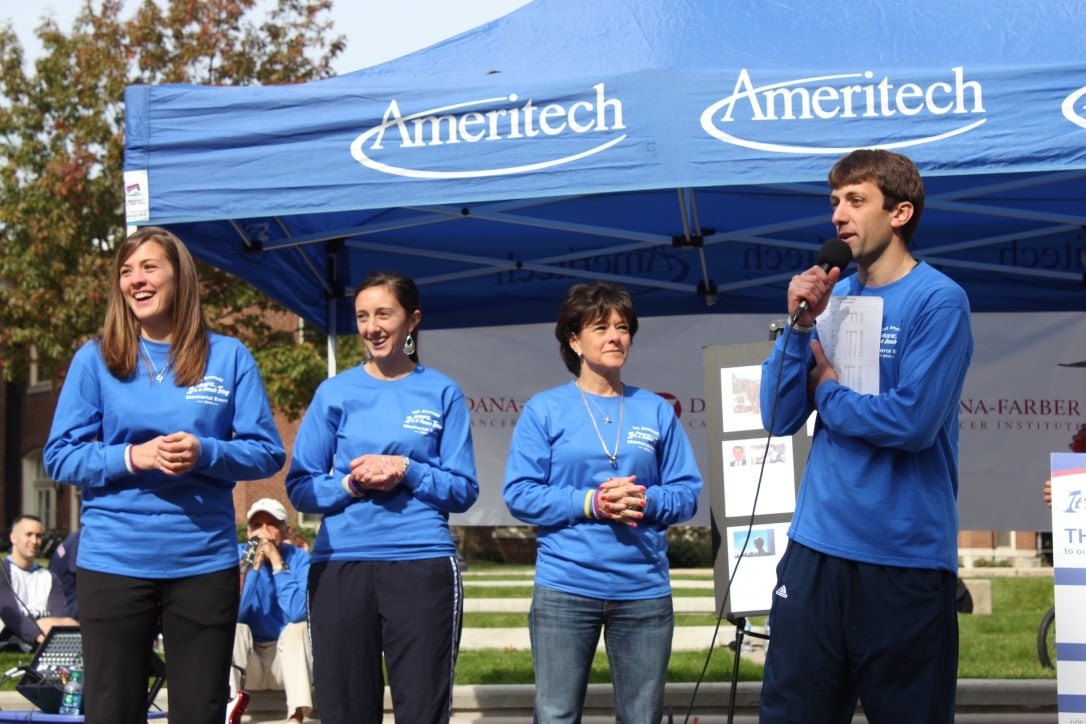 (My mom, sisters and I at the first HOPE event in 2012)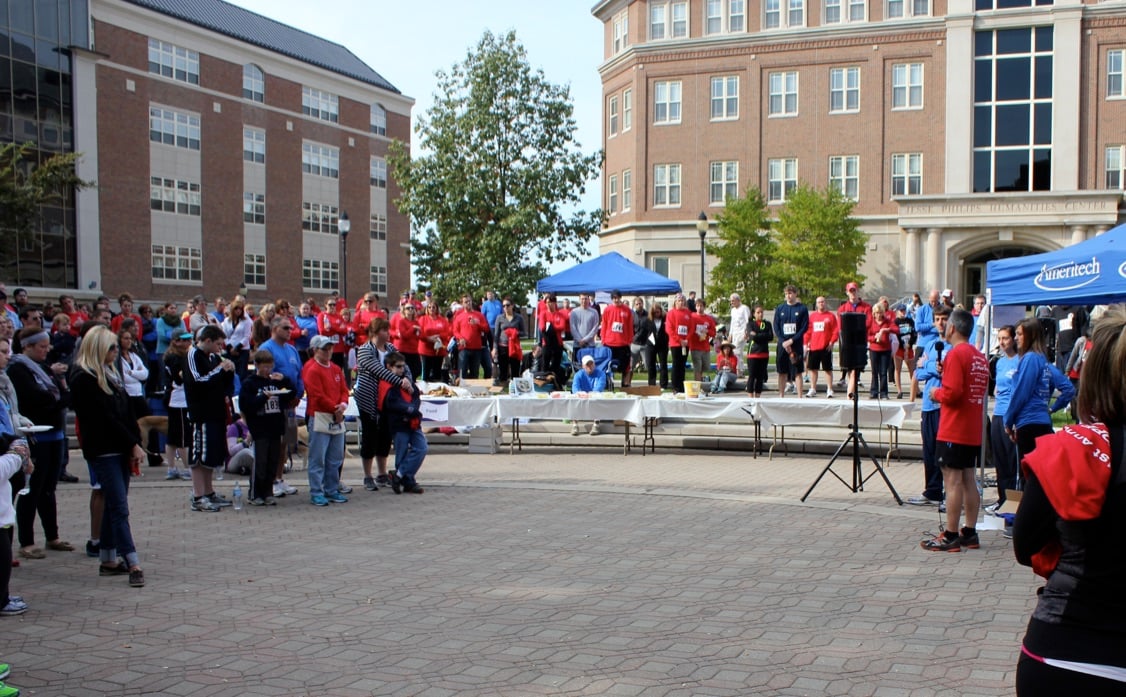 (Dr. Reardon sharing his cancer research progress with the crowd at the first event in 2012)
Supporting Brain Tumor Research At Dana-Farber Cancer Institute
Dr. Reardon cared for my father and worked hard to find the balance between aggressive treatment and quality of life while he fought GBM from June 2010-April 2012. Over time, he's become a family friend and I have continued to see his genuine, caring nature. Today he leads a very high level clinical cancer research team at Dana-Farber Cancer Institute, focused on optimizing immunotherapy for GBM and translating their discoveries to better outcomes for patients.
While GBM is a cancer that has gained recognition in recent years after claiming the lives of Senator Ted Kennedy, Beau Biden (son of Joe Biden), and Senator John McCain, federal funding for this research is remarkably limited. Without funds raised through events like ours, many promising cancer treatment advances, including immunotherapy, would not be able to be pursued.
Dr. Reardon's group of physician-scientists and basic scientists is laser-focused on accelerating the use of immunotherapy for GBM patients. Immunotherapy has transformed care for several cancers, such as advanced melanoma, which had previously been considered intractable. Dr. Reardon and the team are building upon seminal research at Dana-Farber to develop a personalized vaccine, capable of triggering the patient's immune system to recognize the GBM cells and attack it until it regresses to remission. You can learn more about Dr. Reardon's research on the Dana-Farber website.
HOPE Event at University of Dayton
We chose the University of Dayton as a partner to host our event because dad was a proud graduate of the UD School of Engineering. His education at UD propelled him toward starting multiple successful engineering businesses, and he was an active member of the alumni community where he gave back to a school that gave him so much. The university has been incredibly supportive each year, and walkers and runners that participate get to enjoy a beautiful campus during the event.
In October, we hosted our 8th annual event in Dayton, OH. We still have some corporate donations to be received in coming weeks, but thus far we have raised close to $65,000 from this year's event, bringing us to $442,000 donated to Dr. Reardon's research at Dana-Farber since my father passed away.
Continuing...
While we started this event in my dad's memory, we continue it each year to help support families who are going through what we've been through - giving them a message of courage, support and hope that there is encouraging research and advanced treatment options available if they choose to battle this cancer head on.
We're so grateful for the family and friends who help us host the event and for the donors who support this fundraising effort. I've come to realize that the event has grown into something much greater than the sum of our individual efforts. It has grown into a collective effort from a community of brain tumor patients and their families, supported by friends, and friends of friends.
In the shadows of frustration and sadness that a cancer diagnosis can bring, I believe the HOPE event has become a channel for people to direct their goodwill, time and effort towards a very positive light.
Thanks for reading my story, you all inspire me.
Much love,
Stephen